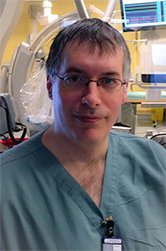 /BkgPhysicians/jean-philippe-pelletier/jean-philippe-pelletier-profil.jpg
Dr. Jean-Philippe Pelletier

 
Dr. Jean-Philippe Pelletier, B. Sc., MD, CM, FRCP(C)
Dr. Pelletier received a Bachelor's of Science from McGill University in 1992, and continued his studies there to obtain his medical degree in 1996. He then completed his residency in internal medicine at the Centre Hospitalier Universitaire de Sherbrooke in 1999 and received specialty certification in this field from the Royal College of Physicians and Surgeons of Canada and from the province of Quebec in the same year. He continued his cardiology training at McGill University and received specialty certification in this discipline from the Royal College of Physicians and Surgeons of Canada and from the province of Quebec in 2002. He then completed a subspecialty fellowship in interventional cardiology at the Montreal Heart Institute (2002-03). Since that time, he has practiced medicine at the Royal Victoria Hospital (McGill University Health Center) in the Department of Medicine, as a member of the Division of Cardiology (Interventional Cardiology and Hemodynamics Service). He is currently an assistant professor at McGill University, and the majority of his MUHC clinical practice takes place at the Hemodynamics/Interventional Cardiology Laboratory, the Coronary Care Unit, cardiology consultation service, and outpatient care at the Queen Elizabeth Health Center MUHC Cardiovascular Clinic.
Furthermore, he actively participates in training residents and fellows in clinical and interventional cardiology and contributes to continuing medical education as a guest speaker. Dr. Pelletier has been the director of the MUHC interventional cardiology fellowship training program since 2012, and has been the MUHC representative on the executive committee of the Quebec Association of Cardiologists since 2005.
His research interests are mainly in the area of the treatment of acute coronary syndromes. He acts as Canadian national coordinator for a large-scale international clinical study, and takes part in many other clinical trials as part of the MUHC Interventional Cardiology research group.
Contact information
Clinic Queen Elizabeth Health Complex: (514) 227-3464 ext #4008
Cath lab: (514) 934-1934 ext #31502