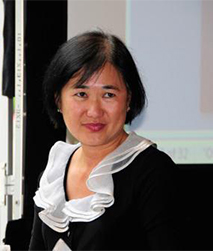 /BkgPhysicians/thao-huynh/thao-huynh-profil.jpg
Dr. Thao Huynh completed her medical studies at the University of Montreal (1987), specializing in cardiology and echocardiography at McGill University (1993). She obtained her Master's Degree in epidemiology and biostatistics from McGill University (2006), and her PHD in Epidemiology and Public Health (University of Montreal) in 2013.
She was director of the coronary care unit (1993-2002), and director of the cardiology department at the Montreal General Hospital (2000-2002). She worked as consultant for Agency of Health and Technology Evaluation (AETMIS) (currently named INESS) (2006-2008). She currently holds the position of associate professor in medicine and cardiology at the Centre Universitaire de Santé McGill.
Her research interests include: knowledge transfer, acute coronary syndromes, heart failure, cardiovascular diseases in women and minorities. She is the principal investigator of the research group AMI-QUÉBEC (group of researchers of 40 hospitals and pre-hospital agencies in Quebec aiming at improving myocardial infarction treatment) and the FA-CILITATE/INTEGRATE group (care program for patients with atrial fibrillation in 14 hospitals in Quebec), the I-FACILITER group (atrial fibrillation care at 15 family care practices in Quebec).